If no matter how a space looks, it gives people a kind of ordinary, or "almost", it is probably because there is no suitable lighting.
Choosing a good lamp with high quality and strong sense of design can instantly raise the aesthetics and atmosphere experience of a space to several levels. Today, I recommend 4 most popular modern lighting brands in 2022.
01 Fontana Arte Lighting
One of the four famous Italian lamp brands, founded in 1932. Fontana Arte's lighting design ideas are mostly derived from life and past cultural precipitation, and are expressed through artistic methods. Therefore, it is not only a product, but also an art of living, which accumulates history and culture.
BILIA series table lamp – composed of two basic geometric shapes of cones and spheres, the combination of metal and frosted glass adds a touch of simplicity and fashion to the unpretentious.
GALERIE series – is to express the past time in modern language, the design is inspired by the old oil lamp. The wall lamp version is made of glass, leather, metal and marble for a retro elegance.
Floor lamp version, one lamp can be used as a reading lamp to create an ideal reading atmosphere; floor lamp with three lamps, depending on the height, can adjust the ambient lighting.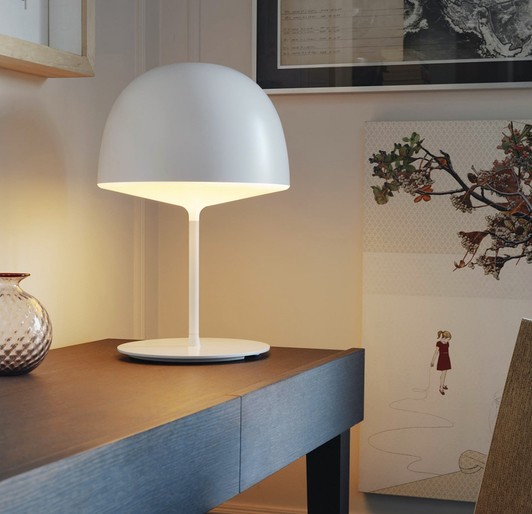 Nobi Collection – The design is simple, two bowl-shaped glass discs are held by tiny springs and attached to a metal frame that can be rotated, minimalist and chic.
The Optunia series – named for its cactus resemblance – consists of two discs that can be rotated nearly 360 degrees, both of which are luminous, using reflections from walls or ceilings to create a soft glow.
The TRIPOD collection – elegant and slender, consists of a combination of three light rays, a white frosted glass sphere that creates diffuse ambient light, and the other two are adjustable spotlights, and the black and brass combination gives it an understated elegance.
SETAREH series – is a very poetic product, a white sphere suspended in a thin metal structure, the light of the sphere diffuses into the surrounding space, illuminating the metal frame, and the reflection of the metal makes the whole environment softer and brighter.
BIANCA series – is a style with very soft light and material, which is very suitable for dining and reading atmosphere.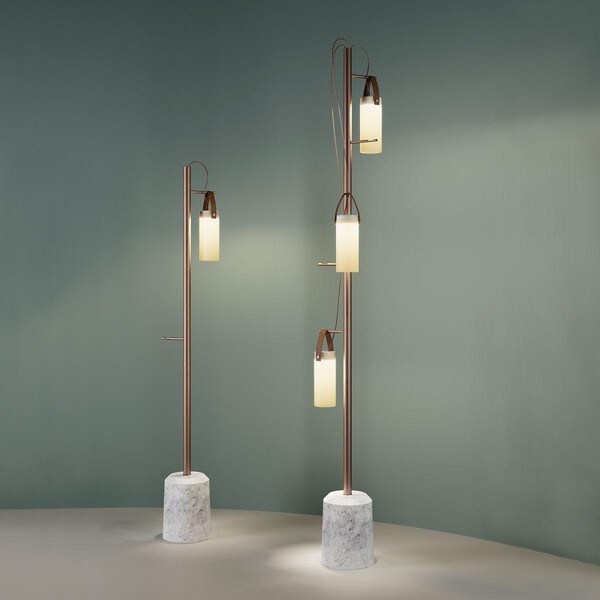 02 VeniceM Lighting
VeniceM is an emerging lighting brand that was only established in 2013. Their lighting lines are very simple. They are designed based on common geometric figures such as squares, circles and triangles, but they never seem boring.
MONDRIAN GLASS series – only a combination of rectangles, right-angled lines and spheres, simple and unique, can adapt to a variety of interior design styles.
ESSENCE series wall lamp – also made of simple right-angled lines.
The URBAN LIGHTLINE collection – is simply a straight line, metal structure, made of light polished brass finish and brushed black perforated metal lampshade. Full of style, perfect for dining table areas and kitchen island placements.
The MISTY collection – also a signature collection of the brand, consists of a natural polished brass frame and a white mixed blown glass shade that floats in the air like air bubbles with a dreamy feel.
The RECTUS series table lamp with directional light is made of dark polished brass with a minimalist and retro feel.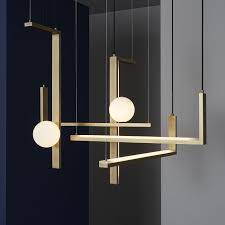 03 LOUIS POULSEN
Louis Poulsen's concept of lighting design is very humanized, not only designing a lighting tool, but also creating a beautiful and attractive atmosphere by creating the shape of light. The product modeling has a strong Nordic temperament.
The most classic AJ series lamps emit downward light, and the interior of the lampshade is all white to ensure soft and comfortable light, ideal for creating a soft and quiet reading atmosphere.
The VL38 series is similar, with a slender metal structure that gives it a sense of sophistication.
The PH3½-2½ series is special, the design of the luminaire is based on the principle of a reflective trichromatic shadow system, which directs most of the light downwards. The shade is made of opal triple-glazed with a glossy top and a sandblasted matte bottom side to soften and diffuse the light.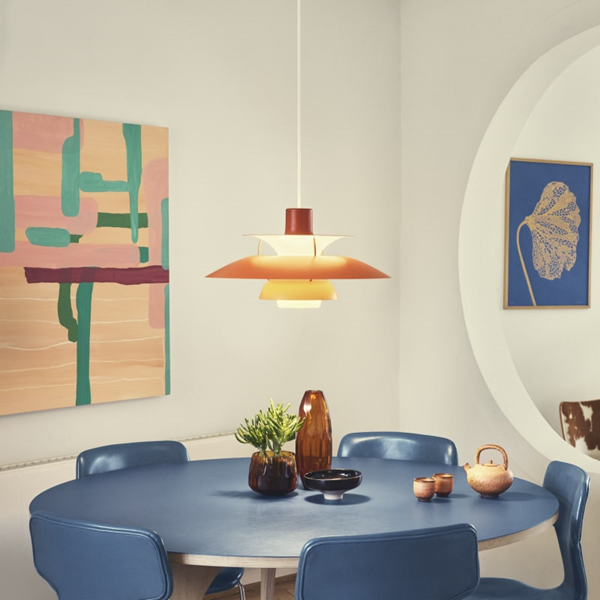 04 Serge Mouille
Serge Mouille has been designing lamps since 1953, and in that era he created a large, angular, worm-shaped wall-mounted light. Including Oeil, Flammes, Saturn, etc. are all products of that era.
Many people now call the lamps he designed "Opening Teeth and Dancing Claws", which reflects the dynamic sculpture-like aesthetics that Serge Mouille strives to achieve in his design, and the pursuit of a space with a sense of movement.
Even if it was designed in the 1950s, more than 60 years ago, this minimalist and modern design style is still timeless, not only suitable for a variety of interior design styles, but also in any functional area.